Whenever I do a presentation or give a talk, I ask the room what would they come home to if they were to go on a 3 month vacation…
I've done this in rooms of 50 people in Hotel Venues and Coliseums of over 7500 people at conventions that I've spoken at over the years… and everything in between.
The answer is invariably the same….
… they'd come home to 3 months of bills to pay.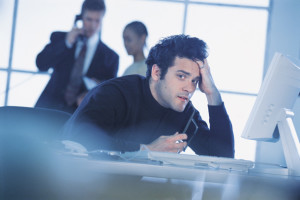 If you understand that, you understand the power of Residuals.
You see, your bills are Residual… or Passive.  You don't even have to be home, but you will still accumualate Rent/Mortgage, Insurance, Electric bills, Cable/Satelite TV, Water, etc., etc.
In my opinion, the reason why 98% of people cannot retire in financial dignity is due to the fact that they are trying to pay Bills that are Residual with Income that is based on trading your time for someone else's dollars.
For example, if your doctor arbitrarily sent you a bill for sevices NOT RENDERED… would you pay it?… NO!
So, your doctor has to invest his time in you, before he earns an income from you. And when your doctor stops investing his time in treating patience, he stops makeing money… but he still has his Residual bills coming in.
And a doctor, lawyer, etc. are known to have high income, but they have to trade hours for dollars in the same way that the clerk or secretary, have to trade hours for dollars… They are just getting more dollars for their hours.
But in my opinion, the doctor the Lawyer, other high income professionals are still not free. They still have Shackles… Their Shackles might be Golden Shackles versus the Clerks iron Shackles, but Shackles are Shackles are Shackles.
Practically everyone has heard one form or another of the U.S. Social Security Department Statistics. And you can check the study online for yourself. But it goes something like this (but again, check online for the accurate details of it), that about 95% of Americans are either dead or dead broke by the time they reach retirment age. And that about 3% are still working after retirment age, while only 2% get to retire in financial dignity.
There are so many factors that come into influencing the outcome of ones retirement, early or not… but the biggest factor is making smart decisions.
One important factor is to set up a passive savings method, such as maxing out your 401k (or 403b or whatever is available to you) contributions at the very beginning of your career. And if you didn't start early, and your already in your 40's, 50's or older… it's never too late to start…
… But more importantly, it never too early to start. JUST DO IT ASAP…
Secondly, earn more than you spend. This will keep you out of debt.
And third, get involved in some type of business that can give you recurring income. If you create a recurring income for yourself and your family, that is equal or bettery yet, greater than your passives bills, you will start to experience financil freedom.
Imagine that you've worked in Network Marketing, MLM or Internet Marketing, and you were able to create a recurring income that was equal to or greater than all your monthly bills,…
… then you can put your entire job Paycheck into the bank.
Do that for a year… and you can start feeling pretty comfortable with the security that comes with have a huge safety net in your savings account.
I have more to add to this blog, so come back and check on it… or I may do a part 2 or series on it.
In the meantime, read below for some of the best methods that I've found for setting up a recurring income for yourself and your family utilizing the internet.
Here's the best Opp I found that you can start with… why? because you need a profitable high converting offer.
Here it is:
Click here for immediate access
There are a few resons this is a high converting offer. First and foremost to note, it was multiple years in development.
Here's the benefits to the  novice / newbie  Online Internet Marketer:
Step by step walk through to set up your high converting funnel. All over-the-shoulder-training.
When you are done with the set-up videos, you will know exactly what the "guru-marketers" know on setting up ever-green funnels.
Then all you need to do is send traffic… we teach you how to send Free Traffic through Facebook, Craigslist, etc.
We also show you paid through our affiliate Solo Ads, Co-Ops, etc.
Click here for immediate access
Benefit to the Intermediate Internet Marketer:
This will show you how to gather up ALL-THE-THINGS you are doing right now… and organize yourself into a step by step daily action plan to follow to get you into profit as soon as possible.
Benefit to Guru, Seasoned, Top-Earning Internet Marketer: 
As a Top-Earner, I had the skillset to get into immediate profit and recruit a large team in a short amount of time, but my biggest frustration was seeing my team not being able to get into profit as quickly. With this system, you will finally have the ability to bring on novice/newbie internet marketers and help them get into profit as soon as possible.
Click here for immediate access
http://vicmann.com
1) Click here and enter your email====>             One Step Join Me
Stay awesome,
Vic Mann.
– See more at: http://vicmann.com/6-figure-income-came-luck/#sthash.47FzjDie.dpuf