I never understood what a Blog was or the concept
of a Blog…
…And I didn't want to know.
Then I started typing into Google about how to generate
more leads for my Networking biz and what kept
popping up was to Blog.
Now, I have a lot of thoughts on the type of Blogs,
or where, etc., but that will be another Blog Post.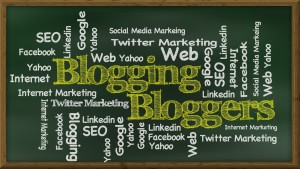 This Blog Post I wanted to give you 3 easy ways to
decide on what to Blog about.
Locating an effective topic for your Blog site can
be a challenge and your post will likely fit into a specific niche.
While it is not required to find a particular niche
it is best to focus your Blogging in a specific direction.
It should be obvious the purpose of your Blog… well
defined by you for every visitor that lands on your Blog.
These are my three specific tips you can use to enhance
your blogging site:
Recognize that you will likely be able to attract and hold
the attention of more readers if your updated blogging
content offers valuable information that every visitor can use.
Typically, successful blogging sites avoid daily family life
and other non-relevant personal information.
=========================================
Here is Blogging site I use to rank on 1st page of Google:
=========================================
That is not to suggest that you should not blend in
interesting content about your family, but it should
be relevant and make a point for your reader.
It is imperative that the niche market topic that you choose
is neither too broad nor specific. If your blogging updates
tend to be too general in knowledge, there is no focus,
call the action, or any specific information that can be
harnessed to be helpful to your readers.
Likewise, when the topic of the update is too narrow,
it will likely only be effective information for just a small
handful of your online visitors. Choose instead to post
valuable content that is targeted specifically to the niche
market that will be appealing to the largest portion of
your targeted audience.
Selecting the best topic is one that will likely give you
room to expand on future Blog Post.
You will need to find a niche that allows
you to update it on a regular basis. In other words,
never choose any niche topic that might be too narrow
in scope. This could create a situation where you run out
of the ability to come up with more content.
The best way to make sure you are not making this
error is to think about future post.
A lot of times I come up with a topic of something that
I need to research more to expand my horizons, and I
will save it as DRAFT in my WordPress back-office.
This way my thoughts are permanently saved and everytime
I go to my back office I am reminded. And when I finally
do the research, and implemented what I learned, then
I can confidently Blog about what I learned, how I learned
it, and how I implemented what I learned.
Remember, typically, the most interesting blogging sites are
those that are written by individuals who have a passion for their
specific niche topic. Choose to follow your heart, so you
can write about things that interest you and other
like-minded individuals.
Stay awesome,
Vic Mann
====================================
Blogging site I use to rank on 1st page of Google:
====================================
got questions?  Comment on the post and I will answer.
========================================
About me: I am a successful internet,
affiliate and network marketer. I earn a
high six figures from home… and have been
a stay at home dad for the last 6+ years.
If I can do it, you can… especially
with my help.
========================================
And like old time Rock group "War" says:
(War is the same group that performs the George Lopez song: "Low Rider")